Burgener & Rippetoe Men's Bar
Gear Specs
| | |
| --- | --- |
| Manufacturer | York |
| Bar Type | Men's Bars |
| Bar Use | Weightlifting, Olympic Weightlifting, Powerlifting, Multipurpose |
| KG | 20KG |
| Diameter | 29MM |
| Knurl | Olympic |
| Center Knurl | Center Knurl |
| Knurl Mark | Dual |
| Shaft Coating | Bare Steel |
| Sleeve Coating | Bare Steel |
| Bushing/Bearing | Bushing |
| Tensile Strength | 205,000 PSI |
| Guarantee/Warranty | Construction Only |
| Free Shipping | No |
| Made In USA | No |
| 3 Ships Free | No |
FAQs
Mike and Marks Bar
Mike Burgener and Mark Rippetoe have teamed up with industry leader York Barbell to provide the ultimate Olympic weightlifting/powerlifting bar that is perfect for CrossFit workouts.
The B&R Bar by York Barbell is produced to their precise specifications. It has a 29 mm shaft with a 200,000 lb. yield strength, marked for both powerlifting and weightlifting movements. It features the perfect light weightlifting knurl that has made York Barbell famous, with a center knurl for squats and an extra half-inch of smooth steel between the knurls to protect your shins during deadlifts, cleans, and snatches. Manufactured with sintered bushings in the sleeves for reliable spin and low maintenance, and with sleeves attached with the same bulletproof end caps used on York competition weightlifting bars, the B&R is designed for heavy commercial gym use in a wide variety of training environments.
Most barbell manufacturers add chrome or other plating material to their bars to prevent discoloration from rust -- it is not there to improve performance. The B&R Bar by York Barbell bar is made for serious lifting, not for looking shiny on the rack. No coating can ever match the look and feel of natural steel, and this quality old-school bar will age to a natural oxidized finish that matures along with your training and experience. This is the last bar you will ever have to buy. It will join the many tens of thousands of bars made by York Barbell since the 1950's that are still going strong.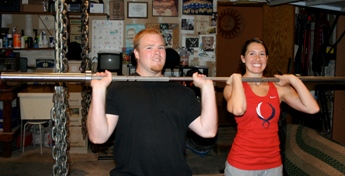 Thanks Casey and Natalie for being our models!
---
This bar is bare steel and just like any fine piece of machined steel this will require some upkeep. Occasionally brushing the bar down with 3 in 1 oil or WD-40 will create a beautiful patina look. This is how bars were made for decades and this creates an unmatched feel
Reviews
Awesome Bar!
Review by
bufanator
Quality
I have used the B&R for the past couple months and I love this bar. The knurling on this bar offers a great grip without eating up my hands or neck! For me there is not a lift that I would not use this bar for. The spin on it without weight is pretty good but add some weight and it spins like a dream! IMO this is a top notch bar...especially for the money! Does require some maintenance but what doesn't. I would recommend to anyone.
| Review for:
Burgener & Rippetoe Men's Bar
Fantastic Bar
Review by
Dman
Quality
I love this bar, the feel and knurling are just right. It makes lifting a pleasure and it's a great value. The only bar I'll ever need. Try this bar, I promise you won't regret it and your lifts will go up because of a newfound confidence. Can't say enough about how much I love this thing.
| Review for:
Burgener & Rippetoe Men's Bar
Great bar
Review by
Justin
Quality
This is my first quality bar purchase, I've been lifting with the B&R bar for a few weeks now and I could not be happier. I'm weird in the fact I like stuff I have to care for, so I maintenance the bar weekly, it's most likely overkill but I enjoy it.. Would recommend to anyone.
| Review for:
Burgener & Rippetoe Men's Bar
Excellent bar
Review by
Mario
Quality
Got it today. It is indeed an excellent bar! Straight, caps firm, great grip. I've paid around 800USD after shipping and taxes but considering the options I have in my Country, this is the best option hands down. No commercial gym around have such quality bar and I'll be happy to use the B&R bar decades ahead. Thanks Rogue for offering such a great product, for inspecting the bar before shipping and everything.
| Review for:
Burgener & Rippetoe Men's Bar
Raw Steel!
Review by
Keith
Quality
I've used other bars before from the rogue bar to cheap chrome ones and this one is by far the best. I got it as part of a bumper and steel plate combo and it is nice. Good spin (not noticeable till it has weight on it) and the knurling is subtle.
| Review for:
Burgener & Rippetoe Men's Bar
Worth its weight in gold.... all 20Kg
Review by
RockOn
Quality
I use the Rogue Bar for the majority of my crossfit training, but the B&R bar is perfect for oly training days.

This bar has a solid knurling that requires little chalk for a solid grip. The bare steel feels like it locks in a little better than any coating. You can't complain about the spin, very solid and allows for a nice turn. The center knurling locks in perfect for front or back squats. Just not ideal for high rep cleans because it will eat your neck up without chalk.

All around killer bar and it will be a staple for years to come.
| Review for:
Burgener & Rippetoe Men's Bar
Best all-purpose bar available
Review by
GetStrong!
Quality
If you use it you will know why. Put simply, the knurling is a work of art. Not aggressive, but sticks like glue. I have four barbells in my gym, and the other three are no longer used by anyone. All other things being equal, a person generally uses the bar that feels the best in their hands. No bar I have ever used beats this bar in that regard. Plus at 29mm it is IPF powerlifting specs. Perfect all around strength training bar.
| Review for:
Burgener & Rippetoe Men's Bar
Perfect
Review by
Tom
Quality
Just got this bar. It arrived in perfect condition. I've never owned a bar of higher quality. It's build to last and I plan on handing it down to my son when I get old.
| Review for:
Burgener & Rippetoe Men's Bar
Worth every Penny
Review by
Daniel
Quality
Great bar, the diameter is just right, the knurl is amazing, and When you use it, it feels sturdy.

Worth the investment, even for a garage gym.
| Review for:
Burgener & Rippetoe Men's Bar
Great Bar
Review by
tryinTOliftTHEworld
Quality
This bar is awesome... so much so that I bought a second one for my wife because she loves it as well. Perfect knurling, great grip b/c it's not chromed out and very sold spin for a non-bearing bar. Highly recommended!
| Review for:
Burgener & Rippetoe Men's Bar
Other Customers Also Viewed