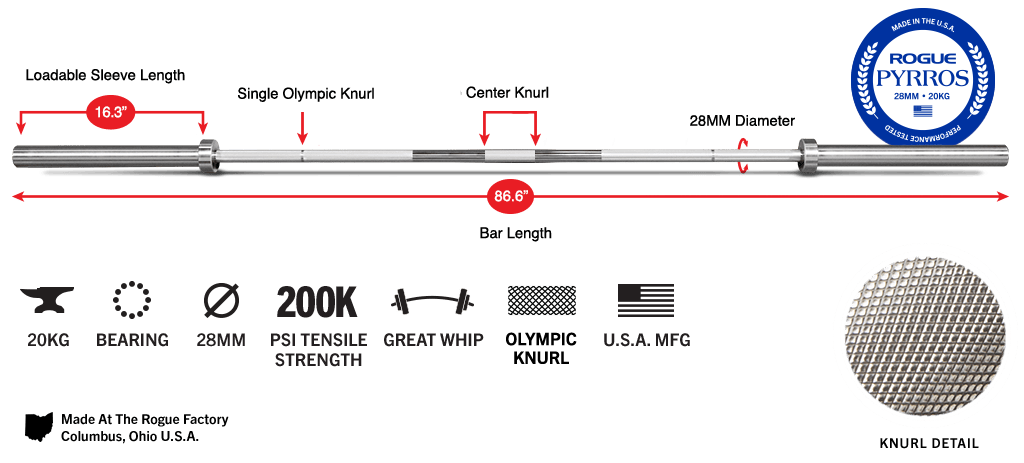 Gear Specs
| | |
| --- | --- |
| Brand | Rogue Fitness |
| Bar Type | Men's Bars |
| Bar Use | Olympic Weightlifting |
| Bar Weight | 20KG |
| Diameter | 28MM |
| Knurl | Olympic |
| Center Knurl | Yes |
| Knurl Mark | Olympic |
| Shaft Coating | None - Stainless Steel |
| Loadable Sleeve Length | 16.30" |
| Sleeve Coating | Chrome |
| Bushing/Bearing | Bearing |
| Tensile Strength | 200,000 PSI |
| Guarantee/Warranty | Lifetime Warranty* |
| Made In USA | Yes |
Rogue Pyrros Bar - Stainless Steel WL Bar
While developing a design for a new Olympic bearing bar, Rogue had the privilege of working with the most decorated weightlifter of all time, three-time Olympic gold medalist Pyrros Dimas. The Greek legend laid out everything he would look for in an ideal barbell—including (a) a slightly more aggressive knurl and (b) a more controlled spin that lets him feel connected to the weight throughout the lift. We provided him with bars made from different types of steel, multiple different knurl textures, and different sleeve lubricants. After lifting on all of them, he gave his feedback on each of the parameters, including which steel had the best whip. At the end of the day, we made a bar that combined all of his top picks. When we showed him what we'd come up with, his response was better than we could have imagined. "It's Perfect," he said. "You should call it the Pyrros Bar." And so we did.
The Pyrros Bar combines a stainless steel, 200K PSI tensile strength shaft with chrome plated sleeves and 10 quality needle bearings. The new knurl texture was chosen unanimously by two members of the USA Weightlifting World Championship team, along with Pyrros himself, from a pool of six options. For the bearings, we've selected a more viscous lubricant to create the controlled spin that Pyrros prefers, and we added an original end-cap design that pays homage to Pyrros's Greek heritage and Olympic triumphs.
Additional Specifications:
Made in the USA
20KG Olympic Bearing Bar (International Weightlifting Federation standards)
Co-Developed with 3-time Olympic Gold Medalist Pyrros Dimas
Stainless Steel Shaft, Chrome Sleeves
Diameter: 28mm
5 Needle Bearings per sleeve
Olympic Knurl Marks with Center Knurl in aggressive but non-abrasive pattern

Loadable Sleeve Length: 16.3"
Tensile Strength: 200,000 PSI
Exclusive Pyrros Dimas Endcap Design

Key Features of the Pyrros Bar:
1

Pyrros Customization

Achieving the right knurl texture and a controlled spin were essential to creating a Pyrros-approved barbell. For the knurling, we experimented with several patterns before choosing a new, more aggressive style unanimously selected by Pyrros and two members of the U.S.A. Weightlifting team (a center knurl was also included by request). Creating the perfect knurl is as much art as it is science, so after gauging, each shaft is manually tested to ensure that the "feel" meets Rogue's standards. Similar attention is paid to the bar's precision needle bearings, five sets of which are included in each chrome sleeve. While the bearings produce a smooth and reliable spin, the use of a more viscous lubricant produced the spin that Pyrros was looking for, ensuring better stability of the weight during heavier lifts and more control for the athlete.

2

The Difference of Stainless Steel

The Pyrros Oly Bar is made from a high-strength, stainless steel alloy, producing a shaft with a minimum tensile strength of 200,000 PSI. Personally selected by Pyrros and two members of the U.S.A. Weightlifting Team for its optimal "whip" and "flex," this stainless steel is the same type we originally developed for our world-record breaking Elephant Bar. With no plating, the knurl is left exactly how we machined it, providing a natural feel that is less reliant on chalk, with better corrosion resistance than bare steel. Please Note: Rogue recommends using a synthetic bristle brush, NOT a steel brush, to clean a stainless steel shaft. Steel on steel can cause rusting over time. See more tips here: Bar Care & Maintenance.

3

Precision Machined and Built to IWF Specifications

Every Pyrros Bar is machined in Columbus, Ohio (on American-made Haas machines) and guaranteed to meet International Weightlifting Federation (IWF) specifications. The shaft is ground and polished prior to machining and individually tested and straightened to within 0.015" (0.38mm). Using a technique from automotive and aviation manufacturing, the sleeves are friction welded for a bond as strong as a single piece of steel, and then machined to our exacting standards. After machining, all parts are gauged to ensure optimum performance. In our barbell assembly department, the shaft is again tested and straightened and the components of each bar are weighed together. Once the weight standard of +20 g/-10 g is met, the bar is assembled by hand followed by an individual test for straightness and reliable spin. 


4

A Legend's Input

A national hero in Greece, Pyrros Dimas owns three World Weightlifting Championships along with three gold medals from the 1992, 1996, and 2000 Olympic Games. He has few equals in the sport, so designing a barbell up to his standards was both a privilege and a great challenge. We're proud to say we've produced a bar that Pyrros Dimas has personally called "perfect."

5

A New Addition to Your Rogue Arsenal

Rogue offers a wide range of additional equipment and accessories to potentially combine with your Pyrros Bar. This includes our Competition Bumper Plates, Competition Collars, and exclusive barbell storage options.

6

Fast Rogue Shipping

The Rogue Shipping System allows you to track your order from the time you place it to the time it hits your door. Order today, track today.
Add to Registry

Please choose the registry you want to add this product to:
Rogue Pyrros Bar - 28mm
is rated out of
5
by
3
.
Rated

5

out of

5
by
PaddyHou
from
I'm lovin' it!
This is my first personal Oly bar; previous bars I've used were Pendlay and Eleiko training bars my gym rents that are not in the best condition. I don't have much experience with other bars to draw from, but I'm loving this bar. The sleeves have unstoppable spin, but seem very snug since there is very little rattle (it's a very quiet bar). The grip knurling is very aggressive, but it isn't destroying my hands; like a sharp tool, it's not slipping. The center knurling is a bit rough, though. It's grinding through shorts quickly and adjusting my front-rack gives me a nice neck burn. However, my clean catch has improved through this negative reinforcement.
Date published: 2018-02-21
Rated

5

out of

5
by
Shukk
from
Worth it
So I got an e-mail asking me to say what I thought of the bar! Well lets begin, shall we? This bar goes above and beyond. I am a person who likes a very aggressive knurl pattern and the Pyrros bar hits the nail right on the head, it has a grip that feels like it will not let go of you. Plus, being stainless steel just feels great! This bar taught me that stainless steel is worth it, and from now on every bar I will buy WILL be stainless steel. The whip feels great the bearings have a very consistent (however slower than average) spin, which feels very controlled and precise the tolerance of the sleeves on the shaft is pretty much perfect. The one and only thing I will warn you about, is the center knurl which is more aggressive than it looks on the pictures (however rogue does not specify a passive center knurl,so that's fair) the knurl is the same across the whole bar, and that may not be for everyone since it is fairly aggressive. I am very happy I decided to buy this bar, I highly recommend it if you are in the market for a higher end bearing bar.
Date published: 2018-02-22
Rated

5

out of

5
by
GeorgeD
from
Perfect
Perfect for Olympic lifts!!! Would recommend to anyone serious abt weightlifting.
Date published: 2017-12-14